Type: Bug

Priority: Normal
When an artist is the only artist that has composed or is previously attributed to all tracks on a disc, then the credits displayed at the bottom of the page incorrectly merge both relationship types together yet exclude the track numbers of the other relationship type.
Display credits inline displays all data correctly.: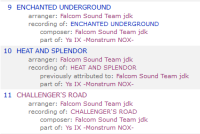 Display credits at bottom merges Previous Attribution and Composer together, but the tracks only include Composer, not Previous Attribution.


https://musicbrainz.org/release/574fd896-510e-4c4a-a995-0f1c941cb067
Ideally, composition and previous attribution should not be merged together. If they are, then the track numbers should include both relationship types, not one or the other.
has related issue

MBS-11974 Different dates of (P) relationships are wrongly grouped on release bottom credit display

Closed